Blueprint: Montecito Landscape Refine a Santa Barbara Garden
Chris Cullen, the founder of Montecito Landscape, began landscaping at the tender age of eight at his family home in Los Altos Hills, CA. He got his contractor's license in 1970 and moved to Montecito and named his company after his new home town.
Since then, Montecito Landscape has specialized in design and installation of residential landscapes. Chris has created some of the mainstays of the "Montecito Landscape" that are part of the image we see when we think of Montecito. For example, he was responsible for the creation of original landscaping at Ennisbrook (on Sheffield Road) adding the double line of Stone Pines that line the walking paths through the west end and choosing the specific type of trees planted at the entrance to match the plaster wall of the original construction (the plaster color was later changed, but the trees still remain).
One of Chris and Lisa's newest projects is a Santa Barbara home. The property had "good bones" but needed refinement. There were a number of unattractive hedges that blocked the beautiful vistas and made it feel hemmed in. The home is a work of art in itself with its simple, modern design and the way it is nestled into the property gives it the sense that it is a work of nature. Their job was to enhance the organic feel of the house and property while creating some space both visually and literally.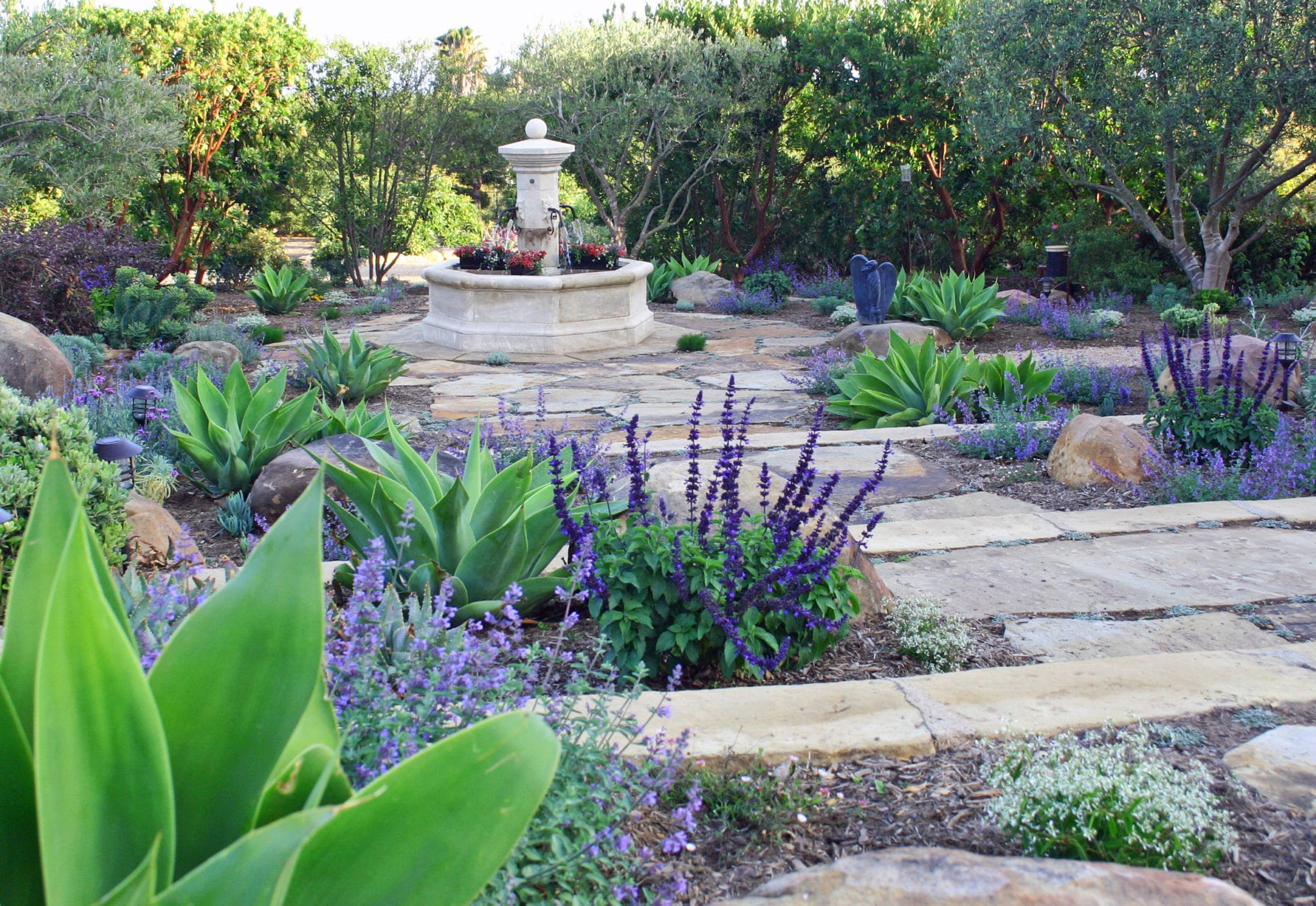 Consistent with Montecito Landscape's garden design philosophy, they first isolate, and then focus on bringing out the best features of a property. Their feeling that each location is as different as each client helps them to approach every new project "intending to help the client see and appreciate their assets and then work with them to discover what it is they need and want." It then becomes a focus to fulfill the clients' dreams in such a way that uses their home and property's intrinsic beauty in unexpected and surprising ways. The goal is to use the entire property in the "picture", creating "negative space" in a three dimensional design.
When determining exactly what needed to be done when working on this project and how to fulfill what the client wanted, the Cullens knew that something about the landscape "wasn't quite right" but they couldn't identify it themselves. "In fact most of our clients know what they want and know when something works and when it doesn't. What they don't know is how fix it. That's where we come in. This garden already had a drought tolerant theme, however many of the plantings were just not working; they were kind of 'clunky.' We suggested the addition of brightness and light to the scene, so that is what we did. With the addition of Euphorbia, Mexican Sage, Nepeta, Santa Barbara Daisy, Santolina and others we were able to add color and softness. When there is a lot of hardscape, as there was in this landscape, we wanted some softness as a counterpoint."
When it came to adding garden décor "the client knew they wanted a water feature as a focal point and so of course, we sent them to Eye of the Day. With Brent's help they found exactly what they were looking for. It then became our job to incorporate the fountain into the landscape in such a way that it seemed as if it were always there. This is our goal, then, when we utilize garden décor, fountains, sculpture, etc. it should feel as it belongs."
For Chris and Lisa, "It is always a pleasure to create a beautiful 'picture' in the landscape; it's why we do what we do. We live for the creation of aesthetics. The pleasure comes in working with the client to give them a garden they will use and enjoy for years to come. This project was no different. We loved collaborating with this particular couple because they were very involved and they love to work in their garden."
See more of Chris and Lisa Cullen's work at Montecito Landscape.