Our Story
Eye of the Day Garden Design Center maintains the largest inventory of fine European garden design décor in the United States including a wide selection of Italian terracotta pottery, French Anduze pottery and Greek terracotta planters.  We are also the largest stocking distributor of Gladding McBean, California's premier manufacturer of glazed terracotta pottery.
Situated conveniently next to the 101 freeway in Carpinteria, California, Eye of the Day offers a large selection of pottery, planters, fountains, statuary, and garden design accessories. We also offer custom services including a variety of finishes as well as fountain conversions, installation and delivery.
Artisan Terracotta Pottery
Eye of the Day works with top manufacturers to maintain a large inventory of terracotta pottery from Italy, France and Greece continually updated by regular container shipments arriving from Europe.
Vintage and Antique Stone Troughs
While traveling throughout Europe, Eye of the Day has been fortunate to find old stone troughs. We have a variety of sizes and shapes, many of them hand carved from a single block of sandstone, limestone, granite or marble. Originally used as animal feeders or water troughs, they now lend themselves to becoming uniquely aged garden planters and water features.
Featured Product
Old Italian Stone Trough
An old, large Italian stone trough made of limestone. Once used as a water trough, it has aged with lichen and moss growing throughout.
Featured Product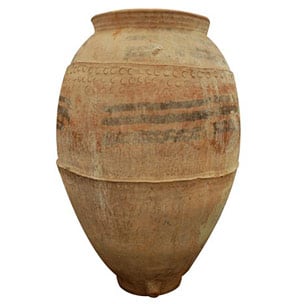 Old European Jar
Originates from Northeastern Spain in the Aragon region. Dates back to 17th century. Wavy lines reminiscent of the Ebro River.
Antique Pottery
Eye of the Day specializes in sourcing antique pottery throughout Europe. From Greek vintage pithari to Spanish oil jars, these one-of-a-kind containers make beautiful statement pieces for the home and garden.