In 1874 Charles Gladding of Chicago was visiting California when he read of the discovery of an extensive field of clay in the northern part of the state. He traveled to Lincoln, took samples of the clay and sent them back to Chicago for testing by ceramic experts. The results surpassed his expectations.  The clay proved to be of excellent quality and was in abundant supply. On May 12, 1875, along with new partners Peter McGill McBean and George Chambers, Charles Gladding returned to Lincoln with a group of skilled craftsmen and Gladding, McBean and Co. was born.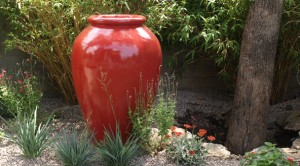 Since then, Gladding McBean has become known for MANY achievements on the planet: terra cotta clay sewer pipe (because of its strength), exquisite terra cotta clay architectural ornamentation and terra cotta roof tiles.  All the roof tiles on the historic buildings at Stanford University are Gladding McBean.   But for those of us attracted by the beauty and longevity of the finest terra cotta pottery, Gladding McBean pottery represents the ultimate in glazed terra cotta garden ornaments.  Each piece of Gladding McBean pottery is hand crafted and glazed in any of a number of beautiful glazes, deep colors.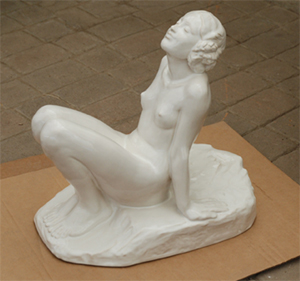 Eye of the Day is proud to be the largest stocking dealer of Gladding McBean pottery in the United States and we have just received a large shipment of beautifully glazed oil jars, planters, jardinières, pots and a few pieces of perfect statuary, one of which, Reclining Nude, has been in production since 1926.Eye of the Day is the place to see the brilliant designs and colors if Gladding McBean ornamental garden pottery in the unique surroundings of our garden center.
A new shipment has just arrived at Eye of the Day, Carpinteria.
Shown here at the entrance of Santa Barbara Cottage Hospital are 2 Gladding McBean oil jars in the color "Pacific"