Eye of the Day Garden Design Center recently welcomed some members of the San Diego district of the Association of Professional Landscape Designers. Headed by Koby Hall of Koby's Garden Alchemy, Inc., the group of landscape designers hit the road for a weekend of visits to major garden influencers throughout the Santa Barbara area.
They stopped by EOTD here in Carpinteria for some tea and tours by owner, Brent Freitas, and sales rep, Mitch Walker who were happy to share information about our company history and an in-depth overview of our various product lines. This included our Italian terracotta from Terrecotte San Rocco and American pottery from Gladding McBean. The APLD group walked our showroom to see our extensive collection of fountains, statuary, and containers. Brent also spoke about our customization services including coloring, aging, and fountain conversions.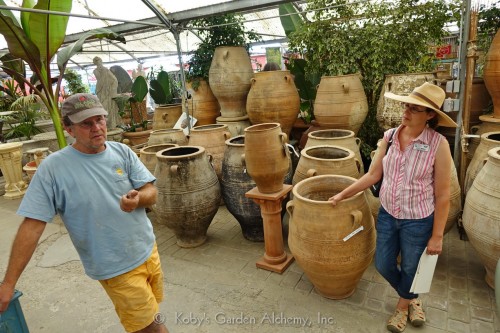 We were happy to see some EOTD items find new homes in future San Diego APLD designs. Special thanks to you guys and we're happy you could visit!
If your group would like a tour of Eye of the Day, please contact us at: [email protected]
Click the slideshow for more of the San Diego APLD visit at Eye of the Day: