You  found it.  The pedestal  to perfectly fit the statue you love.  But it's the wrong color or  the finish is the wrong  texture, its matte instead of high gloss.  Do you turn around and walk out the door?  Do you walk through the showroom at Eye of the Day hoping there is one in another color?  Do you settle for something you don't really love?  NO! 
We happily offer you an alternative:  we will alter it to meet your needs and wants.   A formerly plain Jane grey cement pedestal has been resurfaced to look exactly like something from a 14th century French limestone monastery facade.   A new Greek pot has been colored to appear old.  A tall, graceful terracotta pot from the Terrecotte San Rocco I. Torrini line takes onthe look of an heirloom Gladding McBean pot with its magnificent Black Tuxedo glaze.   A perfect, simple steel square planter is finished to be the doppelganger of an imported zinc or lead pot.  
Whether terracotta, concrete or even metal, Eye of the Day has a fantastic service department that has the ability to color and re-surface every item, from concrete fountains, pots and statuary to architectural pieces that look like they are covered with moss and lichen to mimic the patina of the ages.  Your wishes and desires are our accomplishments.
BEFORE 
Plain Jane Concrete Pedestal
AFTER
Original piece of 14th century French limestone (top piece) and concrete pedestal with finish on front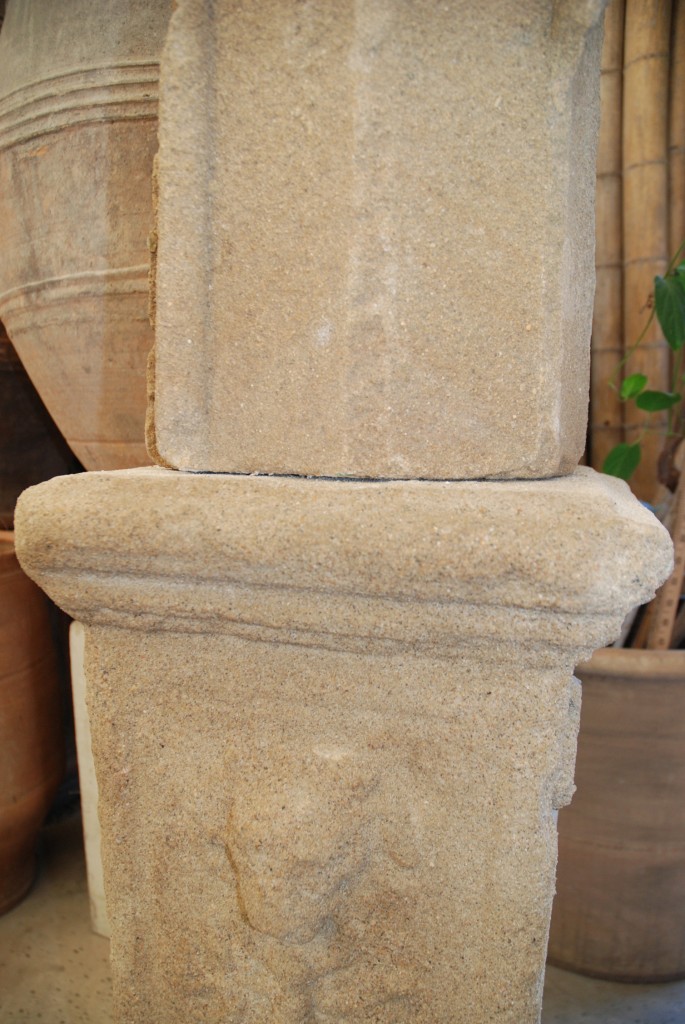 AFTER
Close up of the original limestone (top piece) and the special finish applied to match it on the bottom concrete pedestal